Glen Ridge Orthodontist Spreading Smiles to Community
Drs. Jacy and Arianna, your Glen Ridge Orthodontist, are all about supporting the local community and have made it their goal to use their family orthodontic practice as a platform to re-invest in the local schools.  Did you know that February was National Dental Health Month?  Papasikos Orthodontics visited multiple Glen Ridge Schools to give a dental health presentation to raise oral health awareness.
Papasikos Orthodontics first visited Linden Ave Elementary School in Glen Ridge, New Jersey where they presented to about 75 students.  We showed the students how to brush and floss their teeth using giant tooth models and a giant toothbrush.  Have you heard of the rule of 2? Brush at least 2x per day for 2 minutes, which is longer than you think.  Most people only brush for about 30 seconds.  We recommend you whip out your phone and set the timer for 2 min to get a feel for how long two minutes is. You should floss at least once a day (at night), but two times is preferred.   You also want to make sure you brush all surfaces of your teeth (front/back/top/gum line) and also your tongue!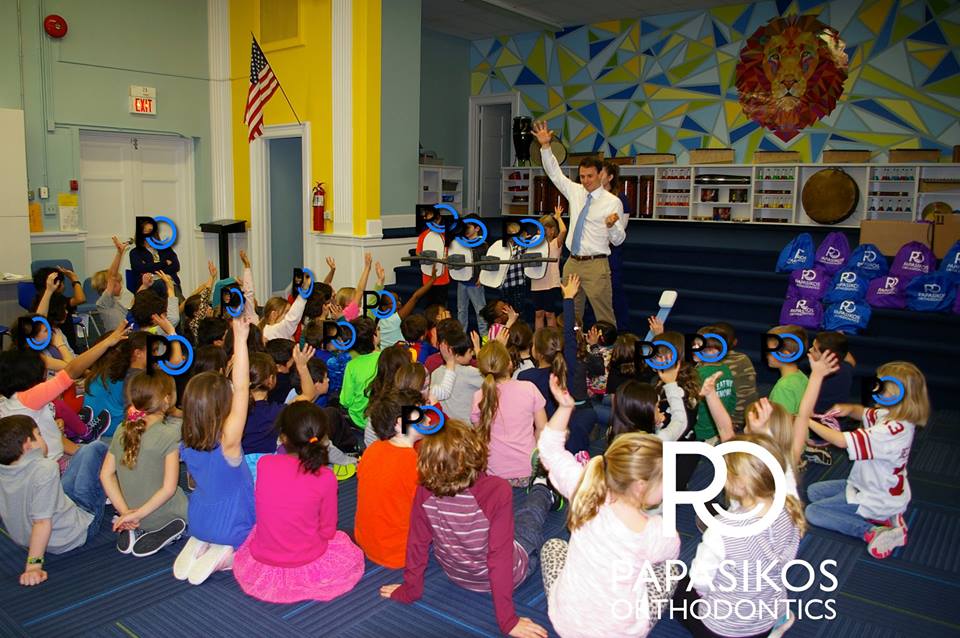 Papasikos Orthodontics also visited Forest Ave School in Glen Ridge, New Jersey where we showed students how to properly care for braces and retainers.  Braces take extra time to clean. If you have braces, we typical recommend brushing your teeth at least 3 times per day or after every meal for at least 3 mintues.  You also will need special tools to clean around the wires.  Some example of tools are: proxabrushes, floss picks, water-flossers, floss threaders, electric tooth brushes.  We also recommend using a fluoride rinse like ACT.  Check out our blog on Cleaning Braces and How To Avoid White Spots for a more thorough discussion.
If you'd like us to visit your community or school, please contact Dr. Papasikos at (973) 744-2511 or office@pobraces.com.
Papasikos Orthodontics
55 Park Street
Montclair, NJ 07042